What is Forced Marriage?
What is forced Marriage?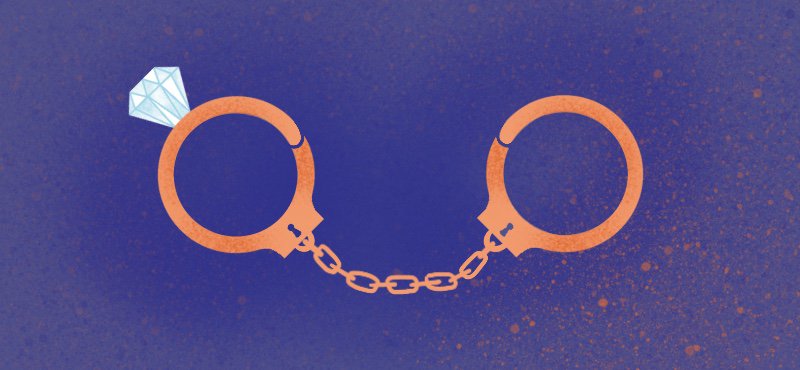 Marriage should always be a choice, and you should always be able to say no if you don't want to get married.
Forced marriage is when one or both people don't freely agree to the marriage. This could be if:
You don't want to get married
You can't legally say yes (for example people under 16 years old or because the person doesn't have capacity to consent)
You feel pressured to say yes. This might be because of force, threats, or emotional pressure such as being told that you will bring shame on the family
Extreme pressure and duress may be used against the parties to force them to go ahead with the marriage. This can involve abusive and bullying behaviour on the part of parents and extended family members.
The types of abusive behaviour can be physical, isolating the person, keeping them at home, away from school, work or college and not allowing them to be out with friends; restricting access to money, and in some extreme cases abduction and murder.
The decision to marry can never be made on behalf of another person.
Forced marriage is different from arranged marriage. In arranged marriages, family often take the lead in setting up and organising the marriage; however, the people getting married have a free choice about whether to get married or not.
Sometimes, people may try to justify forcing someone to marry for cultural or religious reasons, describing it as damaging the family reputation or betraying family honour, but forced marriage is never acceptable. Forced marriage is an abuse of your human rights and it is prohibited by all major religions.
How we can help
Scotland's Domestic Abuse and Forced Marriage Helpline is here to support anyone who has experienced forced marriage or thinks that they might be at risk. Friends, family, colleagues, professionals, or anyone concerned about someone else, can also contact us.
The helpline team are trained specialists and have an understanding of forced marriage. We're here for you, to listen without judgement and to provide support or information about your options.
Our service is confidential which means we will never contact your family and we don't share what you tell us with anyone without your consent (including other agencies like the police or social work) unless we have to in exceptional circumstances. For example, if we believed that someone was in immediate danger or that a child or vulnerable adult was at risk of serious harm. You can see our confidentiality statement for more information.
Who does forced marriage affect?
Forced marriage can happen anywhere in the world, and among people of any religion or culture. It can also happen to people of any age and gender. The Forced Marriage Unit gives the following statistics about the people they supported in 2019: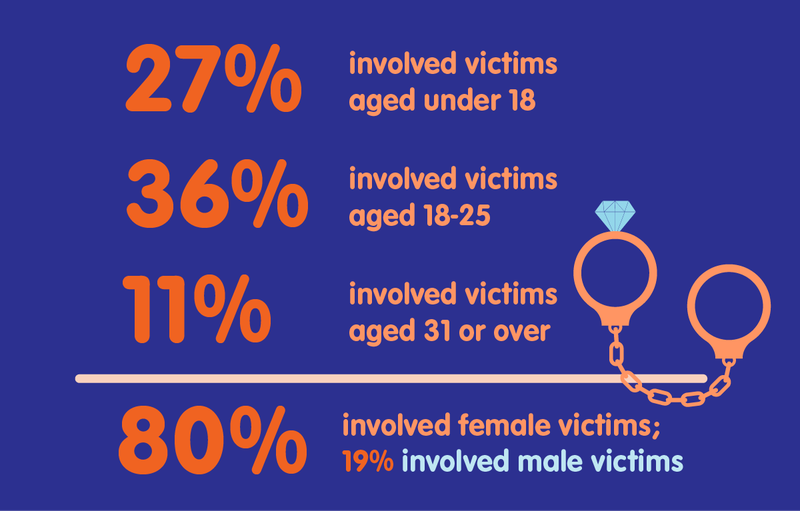 Is forced marriage illegal in Scotland?
Yes. Forced marriage is illegal in Scotland and you have a right to legal protection.
The Forced Marriage etc. (Protection and Jurisdiction) (Scotland) Act 2011 came into force in 2011, to protect people who are at risk of forced marriage or have already been forced into marriage. Forced Marriage became a criminal offence in Scotland in 2014, under the Anti-Social Behaviour Crime and Policing Act 2014.
I think I'm at risk of forced marriage, what can I do?
If you think you or someone you know may be at risk of forced marriage, you may want to consider some of the following options:
Safety planning
Personal safety plans can help you to consider ways to increase your safety and prepare for what you might do if there is an emergency. You can use our tips and information to help in your own safety planning.
If you are in immediate danger, please phone 999 for the police.
Get support
It can help to talk to someone you trust like a friend, colleague, teacher, or student advisor. There are also specialist services who understand forced marriage and can help with both emotional and practical support.
If you decide you have to leave to escape the risk of being forced to marry, there is support available with this as well. This could include things like safety advice, finding you somewhere to stay, help with finances and benefits, and advice about your rights or legal issues such as immigration.
Experiencing forced marriage can often make people feel isolated and ashamed, but it is not your fault. You are not alone and support is available if you ever need it. You can contact us at anytime to talk things through and there are other services who can help listed below.
Reporting to the police
Forced marriage is a crime in Scotland, and you can report it to the police. The police take forced marriage seriously.
If you are considering reporting, you don't have to make the report on your own. You could ask someone you trust, such as a friend or support worker, to go with you.
Forced Marriage Protection Orders (FMPO)
What is a FMPO?
FMPOs are legal orders issues by the court and designed to protect an individual from forced marriage. You can apply for one if:
You or someone else is being threatened with a forced marriage
You're already in a forced marriage
FMPOs are designed to respond to an individual's circumstances, and can therefore do a broad range of things depending on what is needed. For example, an FMPO can:
Make it illegal for someone to take you out of the UK
Order someone to hand over your travel documents to the court
Order someone to make your whereabouts known to the court, or to take you to a safe place specified by the court
Require a person/ people to stop any threatening or intimidating behaviour towards you/ anyone else
FMPOs are protective orders: it is not a criminal matter unless it is breached. It is a criminal offense to breach any conditions of an FMPO.
Who can apply for a FMPO?
You can apply for an FMPO yourself, if you are the person being forced to marry
A 'relevant third party' can apply for an FMPO on your behalf. This usually means the local authority, such as social work, or the police or the Crown Office and Procurator Fiscal Service.
Any other person, such as a concerned friend, can apply but only if the court gives them permission. The court would consider their relationship to the person, their knowledge of the situation, and the wishes of the person to be protected when deciding whether to allow it. This is to ensure the person applying is acting in the victim's best interest
A civil or criminal court can make an FMPO on its own initiative. For example, if information relating to a forced marriage come up during another court case
How to apply for an FMPO
An application for a FMPO is made to the Sheriff Court in the area where you usually live by 'summary application'. If you don't ordinarily live in Scotland, the application should be made to the Sherriff of Lothian and Borders in Edinburgh.
The process is complex, so we recommend seeking legal advice. You may find the section 'finding a solicitor' on our Legal Action page helpful.
There are costs involved in applying for an FMPO. You may be able to get help with costs if you are eligible for Legal Aid or court fee exemptions. If the local authority applies for an FMPO, they will cover the costs.
I have already been forced to marry, what can I do?
If the marriage has already taken place, in the UK or abroad, you still have options and there are services you can speak to for both emotional support and practical help. Depending on what you would like to happen next, this can be support with issues such as safety, housing, immigration, or finances, for example. Our helpline is here for you at any time as a first step and there is more information about who else can help below.
If you have been forced to marry and want to end the marriage, you can ask the court for a divorce or annulment. Getting an annulment means that, legally, the marriage never took place. You can contact a lawyer for legal advice about applying for a divorce or annulment, or to talk about your options. You may find the section 'finding a solicitor' on our Legal Action page helpful.
---
From our callers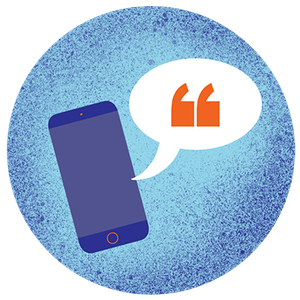 I felt very anxious and upset at the beginning but I felt supported and under no pressure to talk about anything I wasn't ready to share. I didn't feel judged, just reminded that what is happening to me is wrong and not my fault.
---
Who else can help?
The Forced Marriage Unit (FMU)
The FMU specialises in supporting anyone in the UK, of any nationality, being forced into a marriage as well as British nationals being forced into marriage overseas. Help is also available for anyone who has already been forced to marry.
They have a public helpline to provide advice and support to victims of forced marriage as well as to professionals dealing with cases or anyone concerned about someone else. The assistance they can provide ranges from simple safety advice, through to aiding the victim to prevent their unwanted spouse moving to the UK, and, in extreme circumstances, to the rescues of victims held against their will overseas.
---
Shakti Women's Aid
Specialist support for black minority ethnic (BME) women, children, and young people experiencing, or who have experienced forced marriage or domestic abuse. Based in Edinburgh, with outreach support in Dundee, Fife, Falkirk, Stirling, Clackmannanshire, and the three Lothians authorities; can provide limited phone/ email support across Scotland.
---
Hemat Gryffe Women's Aid
Specialist support for BME women, children, and young people experiencing, or who have experienced forced marriage or domestic abuse. They are based in Glasgow.
---
British Consulate, Embassy, or High Commission
If you are abroad and are a British national, contact the British Consulate, Embassy, or High Commission in the country that you are in. These organisations should be able to support you to return to the UK. British Consulates, Embassies, or High Commissions may also be able to support EU or Commonwealth citizens.
---
Hot Peach Pages
If you are abroad, including if you are not a British national or EU/Commonwealth citizen, you may be able to find support from one of the local violence against women organisations listed on Hot Peach Pages.