Housing and Accommodation Options
Housing and accommodation options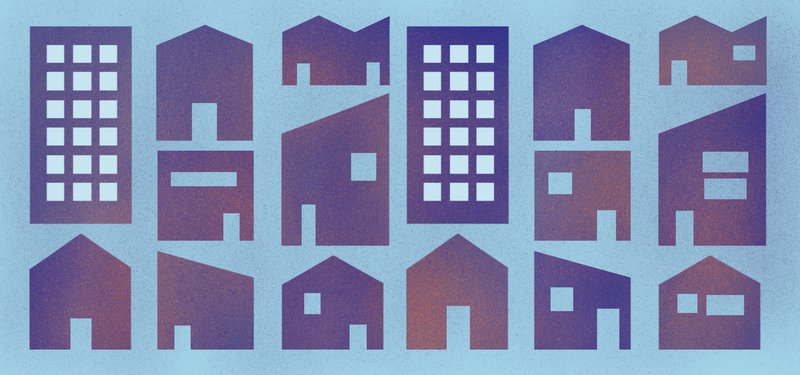 If you are experiencing domestic abuse and home is not a safe or comfortable place to be, you might be thinking about your options, including your housing rights or staying somewhere else.
No-one deserves abuse. You have the right to live in safety and to feel secure in your own home.
There is information below about your rights and options and you can contact us at any time to talk these through.
What are occupancy rights and who has them?
Occupancy rights are legal rights to live in the home. Some of your options may depend on whether you and/or your partner have occupancy rights. For example, this can be important if your partner has threatened to put you out or if you want to stay in the home and have them leave.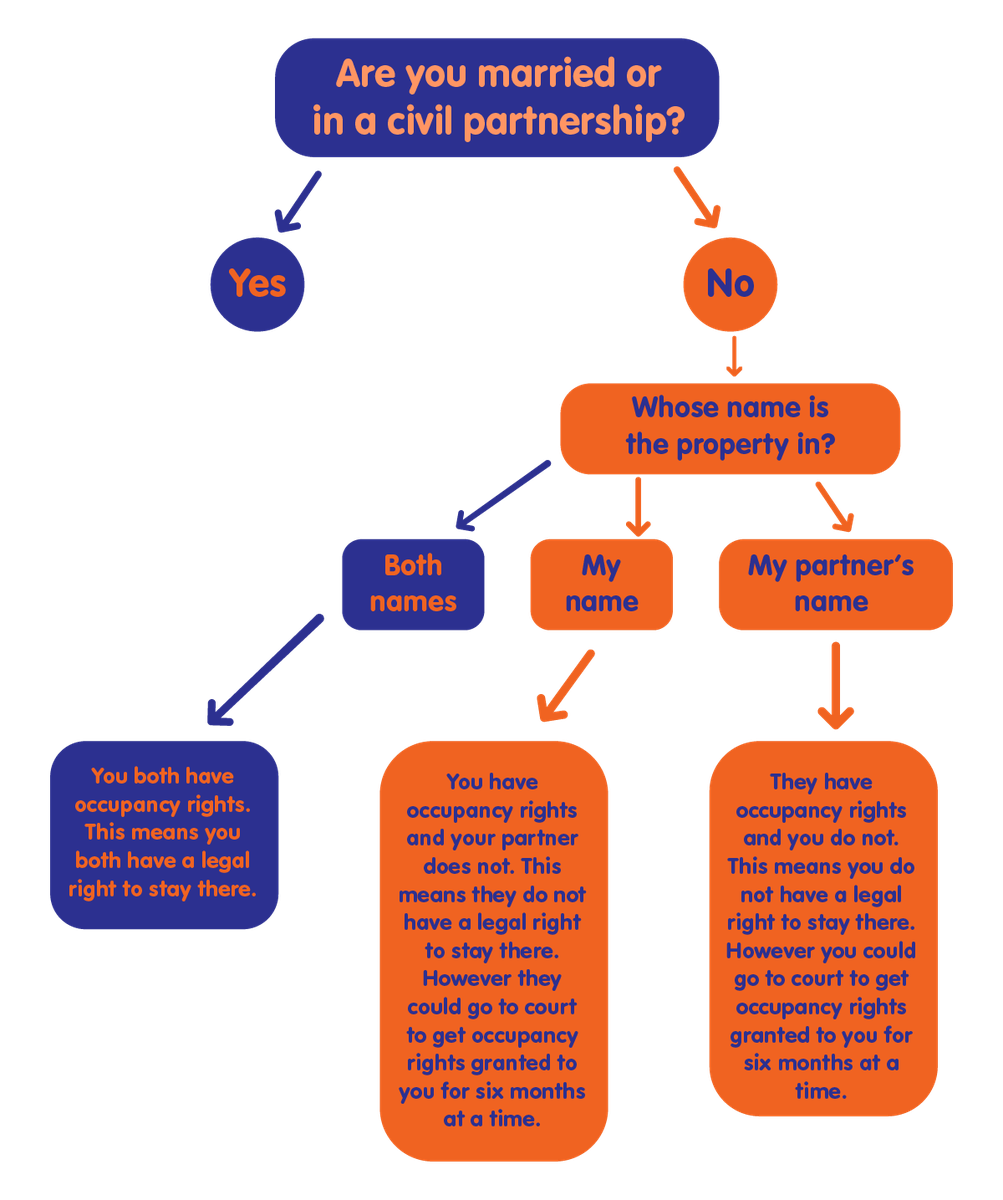 ---
You may be worried about what your rights are and whether you can stay in your own home.
If you have occupancy rights then you do have a legal right to stay in your home and your partner does not have the right to put you out or to refuse you entry. They also can't sell it, give it up, or transfer the tenancy unless you agree in writing (you should get legal advice before making these decisions).
If you do not have occupancy rights, you do not have a legal right to stay in the home. However, you do have a right to go to court to get occupancy rights granted to you for six months at a time.
One option to consider is to remain in your own home and have your abusive partner leave.
If your partner does not have occupancy rights, then they have no legal right to stay there. In this situation, you can change the locks when your partner is out and refuse to let them in. If your partner is in the house and refuses to leave, you may be able to ask the police to remove them or you can apply to the court for an ejection order.
If your partner does have occupancy rights and they refuse to leave then you may be able to use the law to have them removed. If you have occupancy rights, you can apply to the court for an 'exclusion order' which is a legal order that will suspend their right to stay in the house. You can do this even if you aren't staying in the house right now yourself, but you must apply within two years of you leaving. There are also protective legal orders you can apply for to tell them to stay away from you.
The first step would usually be to contact a solicitor who practices family law. For more information about your legal options and finding a solicitor, see our page on taking legal action.
If you are trying to decide whether to remain in your own home and have your partner removed, there may also be safety considerations. Your partner will know where you are living and there is a risk that they may continue to turn up and behave abusively in future. You may also find some of our safety planning information helpful to consider.
If your partner leaves and your rented house is in their name or joint names, you can get it put into your name only, this is called transfer of tenancy. A transfer of tenancy means that your landlord ends your partner's tenancy and then gives you a new one in your name only. You need to ask for this by talking to your housing officer, or writing to your landlord. Your ex-partner will have to consent to this transfer and if they do not, you will have to go to court to get the tenancy transferred.
If your landlord is the council or a housing association they cannot 'reasonably' refuse. If your landlord does refuse and you want to appeal this decision, you can get support from Shelter or Citizen's Advice Scotland to do this.
If your partner rents from a private landlord or you have a joint tenancy from a private landlord you need to check the terms of the tenancy agreement to find out if you can ask the landlord to transfer the tenancy.
If you have to leave your home because of domestic abuse, you have a right to temporary accommodation and to permanent housing from your local council. You can also move to another council area if it is not safe for you to stay in your own area. You don't have to be roofless to be treated as homeless, you can be unsafe in your home, have moved in with family or friends, be living in a refuge, or other temporary arrangement and make a homeless application.
The council has a duty to provide you with temporary housing while they assess your homeless application. Temporary accommodation may be provided in furnished flats, hostels and, for short periods of time, can be provided in bed and breakfast accommodation. You do not have to report the abuse to the police to get temporary accommodation.
Once your homeless application has been accepted the council have a duty to provide you with temporary housing until they can offer you a suitable permanent home. This may be provided by the council, housing association or with a private landlord.
If you are offered temporary accommodation, this would also include members of your household who you wish to go with you. This can include: children, grandchildren and other family members. It also includes people who you are not related to but who are part of your household such as carers.
Unfortunately, pets are not accepted in emergency accommodation. Some refuges may accept pets, but not all of them can. You will need to check before you leave with a pet.
If you need to leave your home and cannot take your pet to the accommodation, you could arrange for a friend or family member to care for them temporarily Alternatively, there are options for pet fostering such as The Dog's Trust Freedom Project and the Pet Fostering Service Scotland.
The council may be able to store your belongings for you, if necessary. Each council has a different policy about this and you may want to check with them before you leave.
Other options include refuge, private lets, and staying with family or friends.
If you are a woman experiencing domestic abuse, you may be able to stay in refuge. This is a type of safe temporary accommodation provided by local Women's Aid groups. For more information, see our page explaining refuge in more detail.
Privately rented accommodation can be a good option for some wanting to move directly into a settled home. However, this is not always possible as it can take some time to find and secure a property and there are costs involved for deposits and rent payments.
Staying with family or friends can be a good option for you to move out quickly and have their support. However, there can be security considerations too. If your abusive partner would know their address, they might be able to find you there. This could place you and the friend or family member at risk. It may also only be a short-term solution.
If you do not have transport, you could travel to your accommodation in a taxi, by public transport, or ask a friend or family member to help transport you.
The local council or Women's Aid group may be able to help you with travel costs, you should ask about this when you speak to them.
If you are on a low income, or get welfare benefits you may be entitled to help with your rent. This can be through Universal Credit, Housing Benefit, Local Housing Allowance or to benefits such as Discretionary Housing Benefit. For more information on what help you might be entitled to see Citizen's Advice Scotland and the benefits calculator.
Most private landlords or agents ask for a rent deposit and/or rent in advance. Rent deposit or rent guarantee schemes help by providing a financial guarantee to the landlord to cover the cost. If you are homeless and on a low income or getting welfare benefits you may be eligible. You can find out about rent deposit/guarantee schemes in your area at: https://www.crisis.org.uk/ending-homelessness/resources-for-practitioners/prs-database/
Universal Credit and Housing benefit can be paid for two homes if you've left your home because of domestic abuse. You can get the housing cost part of Universal Credit or housing benefit on your home and in your temporary housing. If you have to leave your home temporarily (and you intend to go back) you can get it for up to 52 weeks. Payments for two homes are not given automatically and you will have to apply on your Universal Credit account or by writing to your Housing Benefit department. For support with this, you can speak to Women's Aid or Citizen's Advice.
Who else can help?
---
From our callers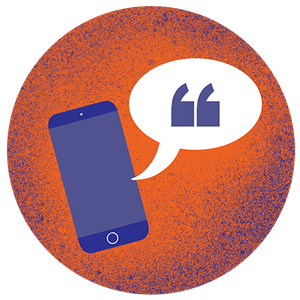 The helpline is an invaluable support. Being able to get reassurance and information 24/7 when you are feeling at your most vulnerable is just amazing. The person who handled the call was wonderful and really helped me feel that my concerns were heard and valid, and she gave me some helpful avenues to explore."